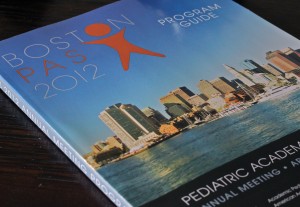 This weekend I've been covering this year's Annual Meeting of the Pediatric Academic Societies in Boston. My specific assignment was to write news articles on endocrinology presentations there, but there was so much going on outside of the endocrine world!  
It's been a busy couple of days, but I've just emerged from the tunnel! I didn't get home until about 7pm and have just finished writing my final article, so it's a good feeling to be able to sit down and relax for an hour or so before bed.
At least the weekend's weather has been beautiful in Boston for the attendees. And for me, since I had to travel into the city to get to the Hynes Convention Center where the meeting was being held.
s
Planes, Trains, and Automobiles
Because I work in the city at MIT, yesterday I decided to park at work and take the train across the river to the convention center. That shouldn't be too bad ordinarily – a 45 minute drive, followed by a 5-10 minute walk to the train station, and then change trains before arriving at the convention center.
But things started to go wrong when I arrived at the subway station and discovered that they were now operating a shuttle bus instead of a train, due to work on the lines.
The trip there went ok though, I was one of the first onto the bus, so I managed to get to the meeting without too much hassle.
But my return journey wasn't so smooth! At the station where I had to change again to the shuttle bus, I emerged from the station to find at least 200 people in front of me, all awaiting the same bus! What a nightmare. Somehow it was only about 20 minutes before I managed to get onto a bus, but I was certainly glad that the weather was pleasant. And I was also glad that the Red Sox weren't playing at Fenway Park – Boston would've been even more of a nightmare to cope with!
Today I knew I'd have to do something different, I really didn't want to do battle trying to get on the shuttle bus home again. So I drove to a different subway station instead, and took a train on a different line. That all went a lot more smoothly, I'm pleased to report!
d
The Meeting
The meeting was mayhem yesterday. Only about 10 minutes after I arrived and settled into the Press Room to get myself organized for the day, alarms began sounding, and there were overhead messages advising everyone to evacuate the building.
Soon this was followed by messages that nobody was to evacuate, there was no problem. But the real problem then was that they couldn't get the alarms to stop! So they continued to peep in the background for about an hour, interspersed with messages that there was still no need to evacuate!
As annoying as it was, it didn't really impact me, I was just drinking coffee, eating a cookie, and reading some abstracts. But I can't imagine how disruptive this was to the speakers who were trying to get through their presentations!
But all in all it was an enjoyable meeting. I caught some great presentations and posters, met some extremely nice people, and I don't think I've ever seen so many people in one building before! This was a huge meeting – over 8,000 attendees.
It was my first time covering PAS, and I have to say, I think this may be the largest meeting I've ever attended!