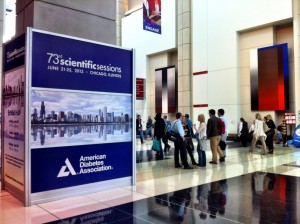 A couple of weekends ago I was in Chicago for the ADA Annual Meeting. I was covering the conference for a client – it was actually the first time I've ever attended an ADA meeting, and I have to say, it was great.
Even though the McCormick Place conference center was teeming with attendees, it never felt overcrowded – it's a huge venue, so there was plenty of room for everyone, and there were so many concurrent sessions that the rooms didn't seem overcrowded either.
My client had arranged a room for me at the Hilton in the city, and it was the first time I've ever been booked into an executive suite – so my room was enormous too.
And one amusing aside – usually these medical conferences are filled with edible goodies. The press room is typically brimming with chocolates and other carbohydrate-loaded treats, as is the exhibitor's hall. But it didn't go unnoticed by me that these things were absent all around at the American Diabetes Association meeting! Clearly they were practising what they preach.
If you're new to covering conferences, it's always worth taking an organized approach to them, and even doing some advanced planning. Every little helps when it comes to these busy meetings.