If you're fortunate enough to have a day off today, it's because of the sacrifices made by our military servicemembers.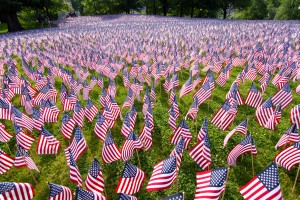 We have a beautiful Memorial Day tribute in Boston right now. For the 2nd year running, a garden of flags blankets the ground in front of the Soldiers and Sailors Monument on Flagstaff Hill on the Common. 33,000 flags are currently planted, in honor of Massachusetts' servicemembers who've died in conflicts dating back to the Civil War.
Breathtaking, to say the least.
Be sure to thank a servicemember today.