If you're in the same position as me and have a full time job in addition to running a freelance business, you'll know all about "not enough hours in the day".
Even without my freelancing, my life is busy enough: 
I get up at 5am & drive 45 miles to work

I do volunteer work in Boston

I volunteer on an educational/exam committee for my veterinary board specialty area

My week is split between MA & upstate NY where my boyfriend is
So trying to maintain some semblance of a life, while keeping up a freelance niche, is tricky at the best of times.  Currently, the majority of my freelance work is done on Tuesday, Wednesday, and Thursday evenings each week – with a splattering of work at other times, on an "as and when" basis, if time permits.
Typically I don't do much freelance work at weekends – most of that time is spent with my boyfriend in NY. That involves me making the almost-6 hour drive there on Friday afternoon – I managed to rearrange my work week around a bit, thanks to my great boss. So I tend to work later each night to make up enough hours to allow me to leave early on Fridays, and come into work late on Mondays. As you can imagine, a 6 hour drive Monday morning doesn't get me to work until around noon. I'll work until about 8pm, then I get to drive 45 miles home – which is why I don't do much freelancing on Mondays!
I do some of the usual things to carve out time for my freelancing:
Catching up with emails or Twitter while I'm drying my hair each morning!

Repeating the above at lunchtime, or squeezing in some writing around this time
One thing I'm quite passionate about in my life, is exercise. For me, it's not just about keeping me fit, it's about maintaining my mental health. A regular exercise regime just keeps me grounded. As you can imagine though, my chaotic calendar doesn't necessarily allow me enough free time for much exercise midweek. I have, however, figured out a compromise: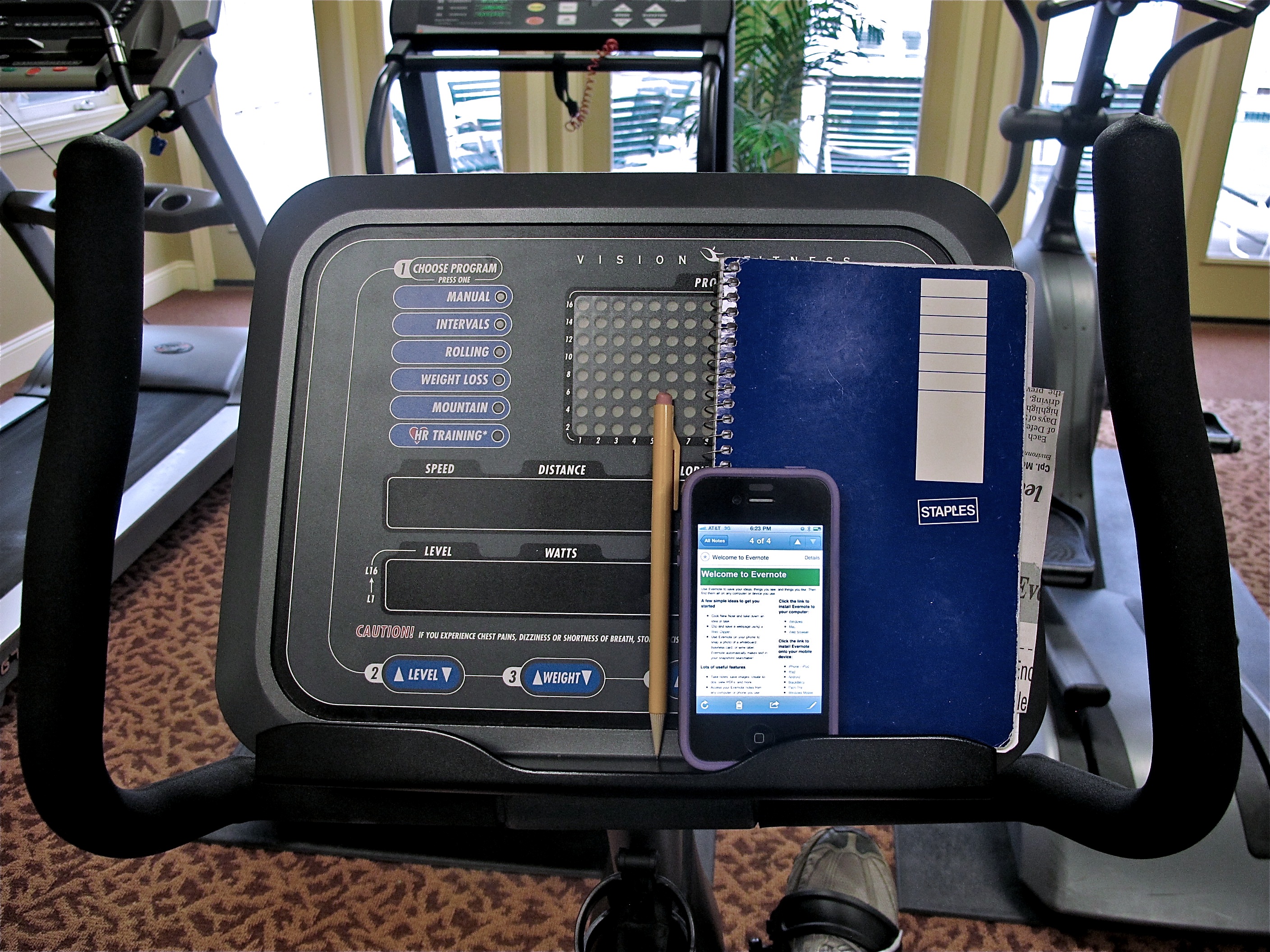 Yes, if I really want the best of both worlds, occasionally I hit the gym with my:
I find this a great way to multitask – I have an Evernote app on my iPhone, so I can either add notes there, or write them in the notepad. Sometimes I'll just brainstorm ideas for posts or potential clients. Other times I'll be catching up on emails, or on Twitter. (I actually remember doing the same kind of thing many years ago while I was studying for my board specialty exam – the almost 24/7 studying for a few months before the exam left me like a zombie between studying & a full time job –  but I was determined to find a way of fitting in exercise, so I'd take study notes to the gym!)
Naturally I don't reach the aerobic levels that I experience when I'm just devoting the time to exercise – but it's a happy medium. I get some moderate exercise, & that's good enough for me.
Is it crazy? Yes, of course.
Do I want to be doing this forever? No, absolutely not!
But for now, it's a crazy compromise that I'm willing to make!
What crazy things do you do by way of multitasking?