The recent salmonellosis outbreak linked to ground turkey has spanned at least 31 states so far, reminding us all of the importance of maintaining excellent standards of food hygiene.
But it's not just our food that's at risk of infection. In recent years, increasing numbers of pet products have been recalled due to contamination or potential contamination.
In the past couple of years, pet food companies have issued almost three dozen pet food recalls due to salmonella concerns, as well as dog treats such as pigs ears, and treats made from salmon or beef. Just this week, Merrick Pet Care of Amarillo, TX, recalled 248 cases of Doggie Wishbone pet treats due to possible contamination with salmonella. Recently also, Nestlé Purina PetCare recalled some of its Purina One Vibrant Maturity dry cat food when it tested positive for salmonella.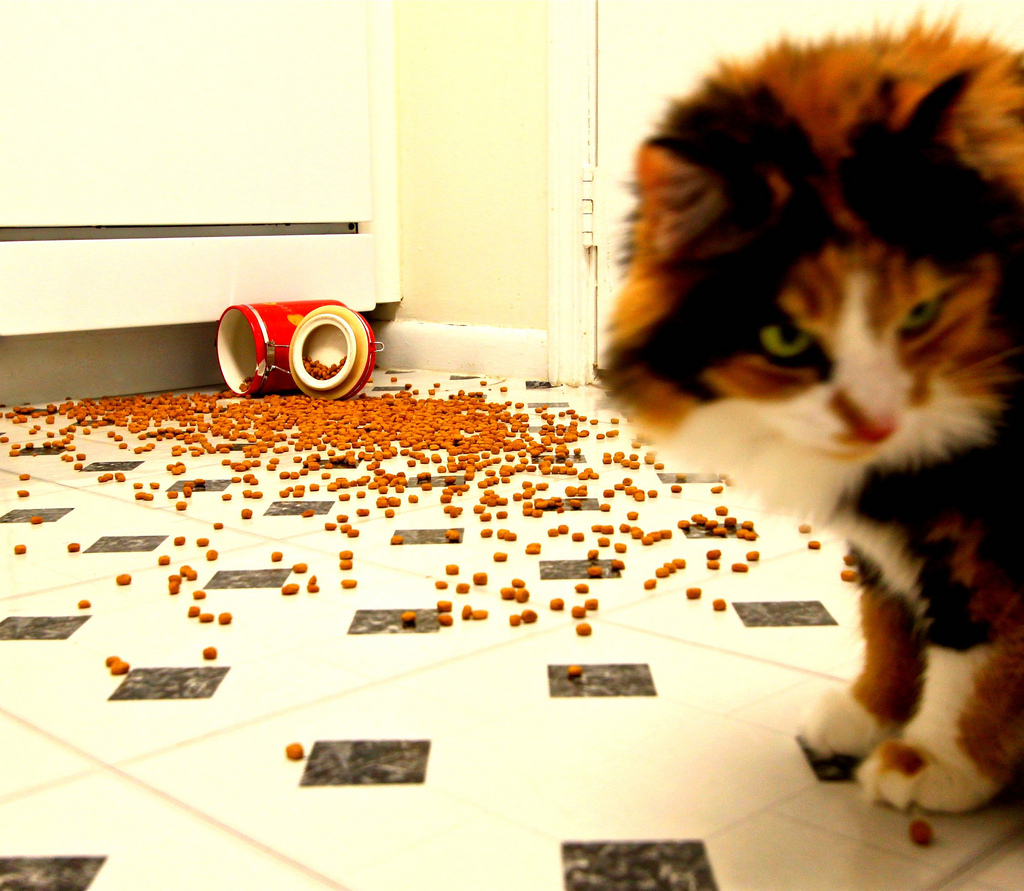 Although the recent recalls were not associated with illness in people or pets, but rather were a consequence of salmonella detection due to random testing, experts warn that pet foods pose a definite risk of salmonellosis for animals and their owners. And indeed from 2006-2008, 79 people (32 of whom were children under 2 years old) were reported by the Centers for Disease Control and Prevention with salmonella infection associated with contact with dry cat and dog food. Although there were no fatalities, 11 of them were hospitalized.
"The problem of salmonella in pet foods and pet treats, even in pet supplements like vitamins, is something people should be aware of," reports Dr. Casey Barton Behravesh, a veterinary epidemiologist at the Centers for Disease Control and Prevention.
The problem of contamination of food with salmonella occurs in the factory. In the case of dry food in particular, after processing, kibbles are sent to a room for coating with flavoring. This room provides a moist environment where bacteria can flourish, and salmonella organisms can seemingly persist on the food kibbles for many months.
Symptoms of food poisoning in pets are similar to those in people, and can involve lethargy, anorexia, fever, vomiting and bloody diarrhea for three to five days duration. The most common scenario, however, is the subclinical carrier state, where no signs are seen, but these animals serve as a reservoir of the bacteria.
10 TIPS FOR GUARDING AGAINST SALMONELLA INFECTION
A recent report in the Journal of the American Veterinary Medical Association offered recommendations on how owners can reduce the risk of salmonella infection in their pets and family:
Wash hands thoroughly before handling food and treats

Discourage children, elderly people, and immunosuppressed patient from handling pet food or treats

Avoid feeding raw food to pets

Avoid buying pet food if it's container or packaging is damaged

Don't feed anything to your pet that is malodorous or discolored – return it to the store if possible

Store pet food products somewhere cool and dry, and according to manufacturer's guidelines

Keep the portion of the food package with the product code and date – in case it needs to be returned due to recall or taint

Wash your pet's bowls and food scoops thoroughly in a sink that you don't routinely use

Avoid feeding your pet in the kitchen

If buying pig ears, purchase only in sealed packages, not from open bulk bins
And finally, don't forget to wash your hands after cleaning your cat's litter box – salmonella organisms can live even after passing through your pet!
Kukanich KS (2011): Update on Salmonella spp. contamination of pet food, treats, and nutritional products, and safe feeding recommendations. JAVMA Jun 1; 238(11):1430-1434.